Lukas Prestridge


Basic Info
Age
28
Birthday
Unknown
Gender
Male
Species
Humanoid
Occupation
Self Agenda
Affiliation
Unknown
Homeplanet
Unknown
Combat
Powers
Intense Psychic Manifestations
Weapons
Telekinesis
Equipment
Telekinetic Drones & Armour
OOC
Status
Alive
Face Claim
Add (LP)
Series of Origin
Elsword
Player
Baff
Otherwise known as the 'Lunatic Psyker', Lukas Prestridge is a semi-infamous and problematic man whose recent activities lend themselves no allegiance either for or against the Jupiter Empire. Wielding advanced technology alongside powerful psychic abilities, he has proven to be a difficult opponent for both the Empire and its adversaries alike.
What little is known about Lukas comes from the records of Griedhurst Academy on Strophios, situated as the Jupiter Empire's foremost facility into the research of extrasensory perception found in organic beings and its uses. Details on Mr. Prestridge's place of origin have either been deleted or were never logged, but his entry into the Academy occurred at the age of 15 - much later than is usually admitted for humankind as their minds undergo great change during puberty that must be controlled and accounted for, but it is simply noted that an 'exception' was made.
Across the three years of schooling and testing that was performed much of the data is corrupted, however what records remain indicate very erratic scores in differing subjects. Within the same month Lukas would fail a test, only to succeed beyond measure shortly afterwards, before comfirming a pass with very different answers or methods to the original test. At least in one instance each, Lukas Prestridge had attained an Outstanding grade across seven different fields of ESP, a feat previously unrecorded.
Perhaps the most striking part of his Academy Record is the final note at age 20, which ends rather abruptly as seen below: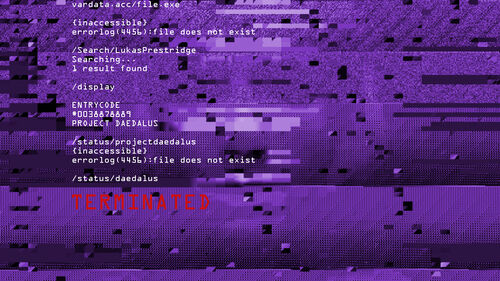 .
.
.
.
.
.
.
Personality
Edit
A difficult man to pin down, he is both confident and intelligent enough to back said confidence up. Well aware of both his power and his limits, Lukas is the type to understand when defeat is inevitable, but also the avenues left that can allow him to pursue whatever cause he makes his own despite any losses he might take.
Persistent, pragmatic and precise, the coined name 'Lunatic' almost seems to be a misnomer, until his more erratic, desperate side surfaces. When left with little other option, ruthlessness becomes his most stalwart ally, willing to sacrifice anything so long as it allows him to proceed. Whilst many might consider this his weakness, few exist that would willingly battle such a power when unleashed to that degree.
Relationships
Edit